Advocacy Interaction Program on: "Challenges Faced by Visually Impaired Share Market Investors and its Solutions"
Published on:
June 12, 2021
Reading Time: 2 minutes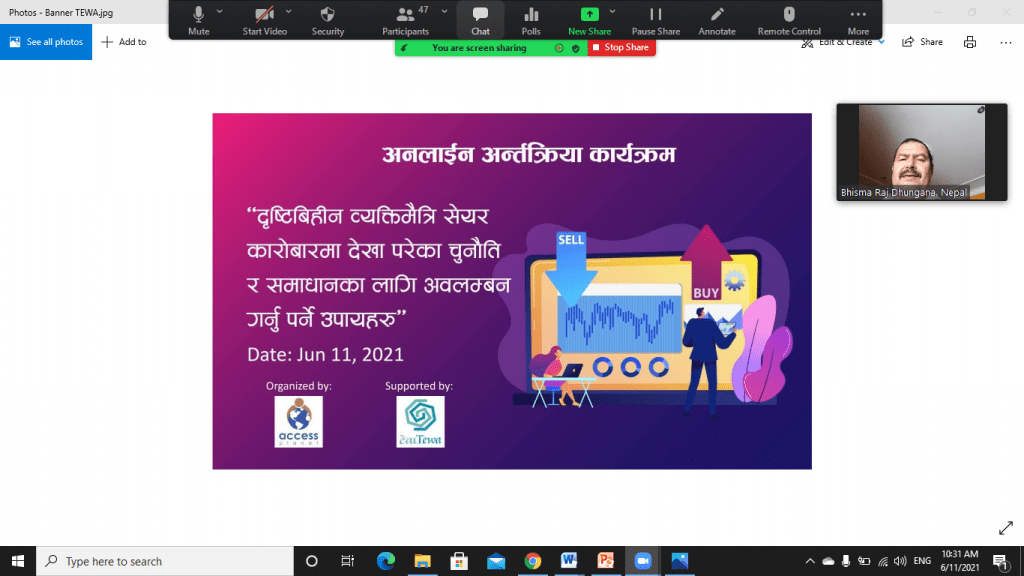 Access Planet Organization successfully conducted an advocacy interaction program with concerned share market stakeholders with the demand of a screen reader-friendly share trading system including accessible website, an accessible app and accessible reading materials with the follow up of the web content accessibility guidelines.
This advocacy interaction program had the presence of various stakeholders related to Nepal Share Market including:
Bhisma Raj Dhungana, President of Securities board of Nepal (SEBON)
Chandra Singh Saud, Chief executive officer and director of Nepal Stock Exchange (NEPSE)
Suresh Neupane, Spokesperson of CDSE
Deepesh Pradhan, Managing director of YCO private limited
Chhote Lal Rauniyar, President of Nepal Investment Forum
Bishnu Basyal, Director of market Pandit capitals and merchant banking limited.
The program had the enthusiastic presence of the visually impaired investors and the concerned stakeholders.  With the rise of online share market trading system in Nepal, Blind and visually impaired investors are very interested and are eager to engage in share market investments. However, websites, applications, systems used for trading has not been fully accessible to visually impaired screen reader users. Thus, this advocacy interaction program aimed at sensitizing the authorities of the stock market and hence making it accessible to screen reader users.
The topics discussed in this advocacy program were:
Importance of share market investment for blind and visually impaired people.
Why share market should be accessible.
Challenges faced by Blind and visually impaired investors due to lack of accessible trading system.
Solutions and way forward including demand to follow WCAG guidelines
This advocacy interaction program has become fruitful in sensitizing the issues of accessibility related challenges in the current online share trading system. The concerned authorities have stated their commitments to make the entire system accessible to visually impaired people. We are very hopeful that the commitments made by the concerned authorities will be fulfilled in making Nepal share market system accessible to all including visually impaired investors. Our sincere gratitude to Tewa Nepal for funding this initiative.
Image Gallery
Post Tags:

Financial Literacy, interaction with stakeholders, professional enhancement, technological empowerment
Share this page on social medias!