First Focus Group Discussions (FGDs) on Issue Identification on Education and Access to Technology for Girls at the Local Level
Published on:
April 24, 2023
Reading Time: 2 minutes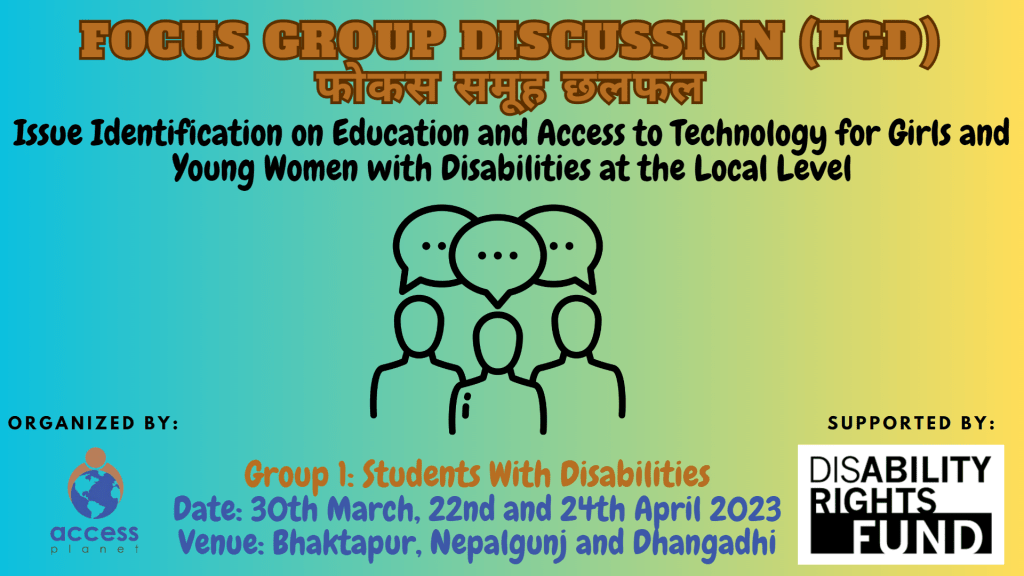 30th March, 22nd and 24th April 2023
Bhaktapur, Nepalgunj and Dhangadhi, Nepal
Access Planet Organization in support of the Disability Rights Fund (DRF) organized the first Focus Group Discussions (FGDs) on the topic- "Issue identification on education and access to technology for girls and young women with disabilities at the local level." The discussions were conducted to identify the issues of female students with disabilities through the FGDs regarding the issues and challenges that they face in accessing quality education and access to assistive technology. 10 female participants each representing different institutions in the Bhaktapur, Banke, and Kailali districts were present at the discussions. Thus, the Advocacy Committee of Kathmandu, Nepalgunj and Dhangadhi led the first FGDs as a part of their action plan.
Objectives:
The main objectives of the discussions are as follows:
To identify the existing issues of the students with disabilities by having a focused group discussions.
To document the issues for preparing the advocacy manifesto for conducting advocacy at the local levels.
The representatives of Access Planet, began the focus group discussion by welcoming the participants to the event. They explained about Access Planet and some of its details to all the participants. They then led them to introduce themselves along with pointing out the agendas and format of the discussions. They then moderated the discussions by asking the set of questions based on the following topics to the participants accompanied by other teammates:
A) Physical Infrastructure
B) Quality of Education
C) Specific education issues for girls and adolescents with disabilities
Output:
The primary outputs of the discussion are listed in points as follows:
The existing issues of the students with disabilities were identified by having a focused group discussions.
The issues were documented to prepare the advocacy manifesto.
After the successful completion of the 1st FGDs, will be able to conduct the 2nd FGDs with another groups.
Image Gallery
Post Tags:

Advocacy, Advocacy Committee, Awareness, Bhaktapur, Campaigning, Dhangadhi, Disability Rights, Disability Rights Fund, DRF, FGD, Inclusive Education, Justice, Nepalgunj, students with disabilities
Share this page on social medias!