One Day Legal Literacy Training for Women with Disabilities_Gandaki Province
Published on:
June 16, 2023
Reading Time: 2 minutes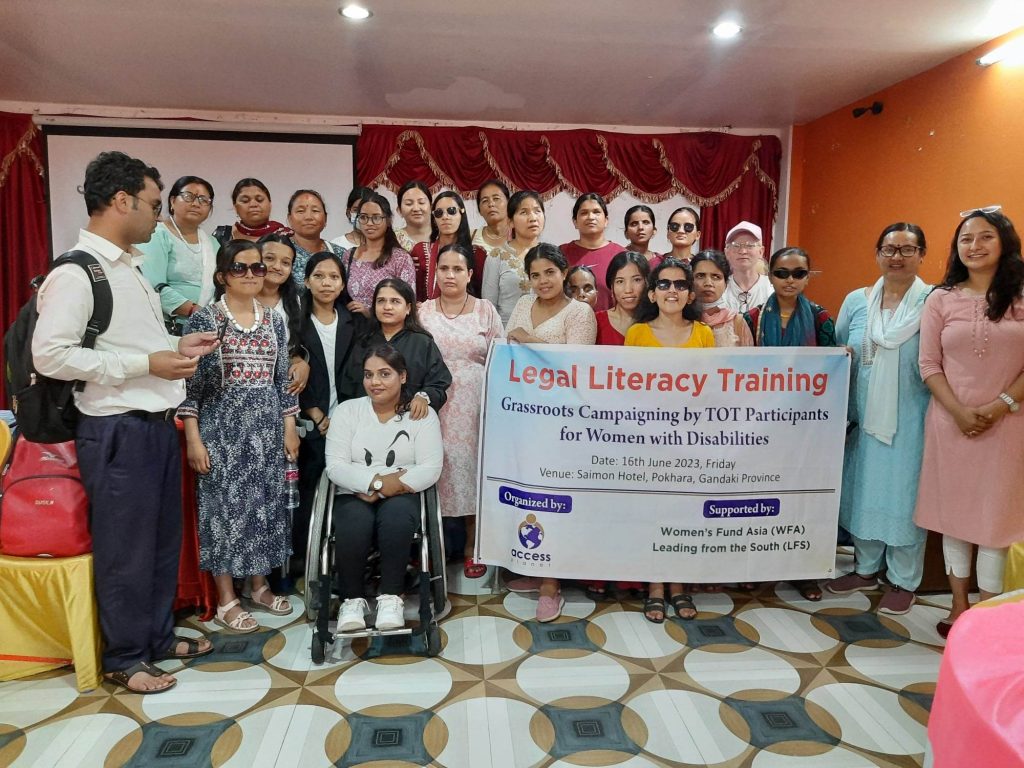 16th June 2023
Pokhara, Nepal
Access Planet Organization in support of the Leading from the South (LFS)- Women's Fund Asia (WFA) organized the training of trainers (TOT) on the topic- "One Day Legal Literacy Training for Women with Disabilities" which was taken as a part of grassroots campaigning by TOT participants of Pokhara, Gandaki Province for the women in their local areas. The one-day training was conducted to build the capacity of 21 women from Gandaki Province on emerging topics related to feminism and law. The participants were trained by all four facilitators who were trained during the training of trainers (TOT) on feminism, national and international laws and policies, and human rights mechanisms that took place in Kathmandu last month.
Objectives:
The main objectives of the training are as follows:
Build the capacity of women with disabilities at the local level.
Strengthen grassroots campaigning by the TOT participants by organizing training on feminism and legal literacy in the community.
Expand the programs and activities of Access Planet by establishing formal or informal networks of the organization in different provinces.
Ms. Laxmi Nepal, Founder of Access Planet, began the training by welcoming the participants to the training hall. She then led them to introduce themselves along with pointing out the agendas and format of the training. Alongside also explained the organization and its details to the participants. The participants dived into a range of sessions related to the topic that could help them gain enough information about the related topics as they were getting trained by various trainers who are trained in the related fields along with the assistance of Ms. Laxmi and Ms. Jyotsana Prajapati from the organization.
Output:
The primary outputs of the training are listed in points as follows:
21 participants from Gandaki province were provided with knowledge on feminism, and law.
Empowerment of grassroots women with disabilities has contributed to strengthening the grassroots movement.
Strengthened relationships with women with disabilities in the province by establishing formal or informal networks.
Image Gallery
Post Tags:

access to justice, Advocacy, ARPD, Awareness, Campaigning, capacity building, Commitment, Empowerment, Feminism, Gender, gender rights, grassroots campaigning, human rights, Inclusiveness, international, Intersectionality, law, leadership, LFS, national, Violence, WFA, Women empowerment, women with disabilities
Share this page on social medias!