Capacitating young women with disabilities on economic rights
Published on:
September 5, 2021
Reading Time: 1 minute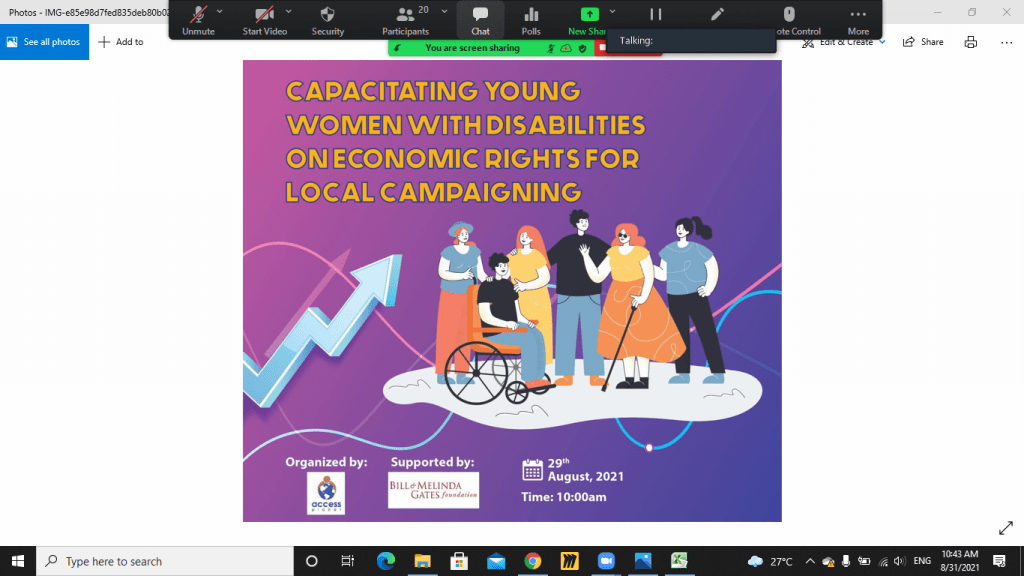 Access Planet organization with support of Bill and Melinda Gates Foundation has successfully conducted 4 days training on "capacitating young women with disabilities on economic rights for local campaigning" from 31st August to 3rd September 2021.
The objective of this 4 days training was to capacitate young women with disabilities on economic rights for strengthening local campaigning in regards to the issues in their respective areas.  In the training, there were participants with diverse disabilities from Bagmati province of Nepal.
The topics of this 4 days training were:
Linkage between women rights and economy
CEDAW and ICESCR
Economic rights in CRPD and SDG
Economic opportunities available at the local level
Economic rights stated in Act on the Rights of Persons with Disabilities
Identifying issues related to economic rights of women with disabilities
Session on Advocacy and advocacy plan.
After the training, young women with disabilities have been aware about various economic opportunities and provisions available at the national and local level and also about national and international provisions in pertaining to the issue.
After the completion of the training, advocacy committees have been formed in Kavre, Kathmandu and Chitwan districts to strengthen the advocacy  campaign on economic rights at the local level.
Image Gallery
Post Tags:

capacity building, Disability Rights, employment promotion
Share this page on social medias!