Enhancing Economic Rights of youths with visual impairments
Published on:
August 5, 2021
Reading Time: 2 minutes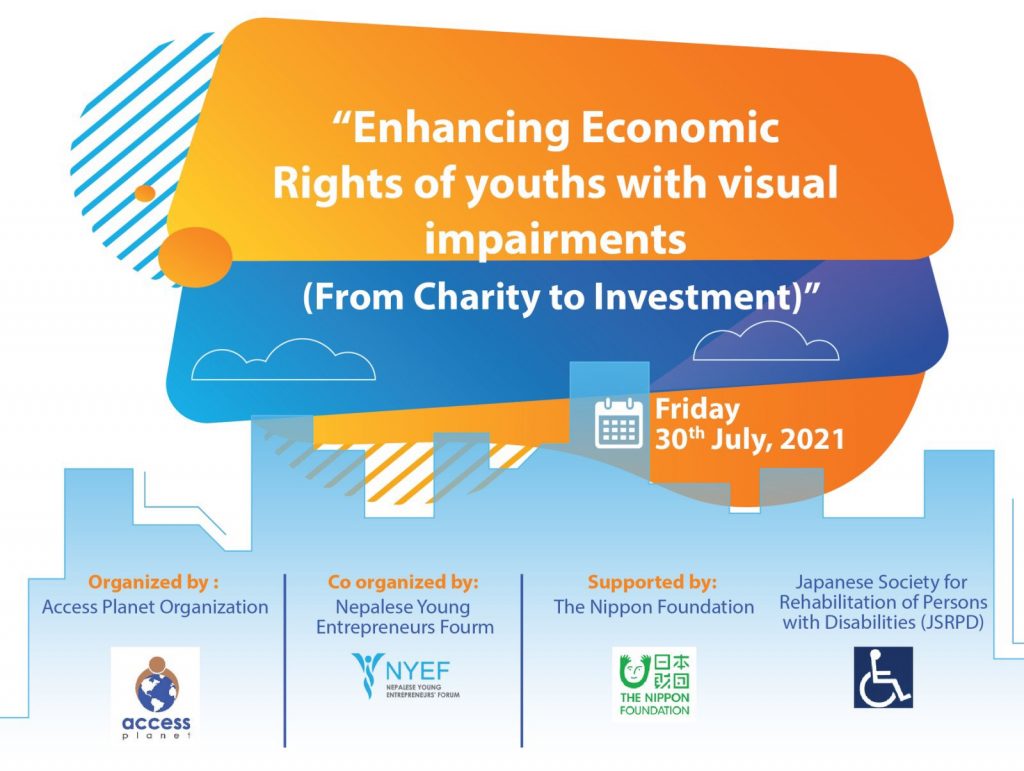 Access planet organization in collaboration with Nepalese young entrepreneurs forum and in the funding support of Japan Foundation and Japanese Society for the Rehabilitation of Persons with Disabilities (JSRPD) has successfully conducted advocacy interaction program entitled "Enhancing Economic Rights of youths with visual impairments (From Charity to Investment)" on 30 July 2021.
The program had the presence of various employers and disability right activists where they shared their views and commitment towards inclusive employment opportunities for blind and visually impaired youths in the panelist discussion session.
In this interaction program, there was a paper presentation made by Executive Director of Access Planet, Ms. Laxmi Nepal on the topic, Employment status of blind and visually impaired youths in Nepal. The major topics highlighted in the paper were:
Available employment statistics of people with disabilities.
Policies and system related to employment provided by government for people with disabilities
Limitations and improvement needed for uplifting the economic status of people with visual impairments.
Collaborative approach for improvement of economic status from government, organization of Persons with disabilities, employers and blind and visually impaired youths.
The Way forward
Panel Discussion, "Diversity in Workforce: Opportunity for Inclusive Social Progress".
The panelists where:
Dr. Rajesh Dhoj Joshi, Director of Kathmandu Model Hospital (employer)
Mr. Nabin Lama, CEO of Gandaki Dohori Sanjh (employer)
Ms. Sharda Adhikari, Helen Keller International (visually impaired employee)
Mr. Chiranibi Poudel, CEO of Seeing Hands Nepal massage center (visually impaired entrepreneur)
Mr. Mitra Lal Sharma, President of National Federation of Disabled- Nepal (NFDN)
This advocacy interaction program for economic rights has become fruitful in sensitizing the issues of accessibility and attitude related challenges for employing blind and visually impaired youths by private companies. The co-organizer NYEF has given commitment for introducing friendly work opportunities for people with disabilities in general and blind and visually impaired youths in particular. We would like to thank Japan Foundation and JSRPD for supporting for this initiative.
Image Gallery
Post Tags:

Disability Rights, employment promotion, interaction with stakeholders, professional enhancement, technological empowerment
Share this page on social medias!