Techno-based on the Job Training for Young Women with Disabilities (Nepalgunj, Lumbini Province)
Published on:
May 30, 2023
Reading Time: 2 minutes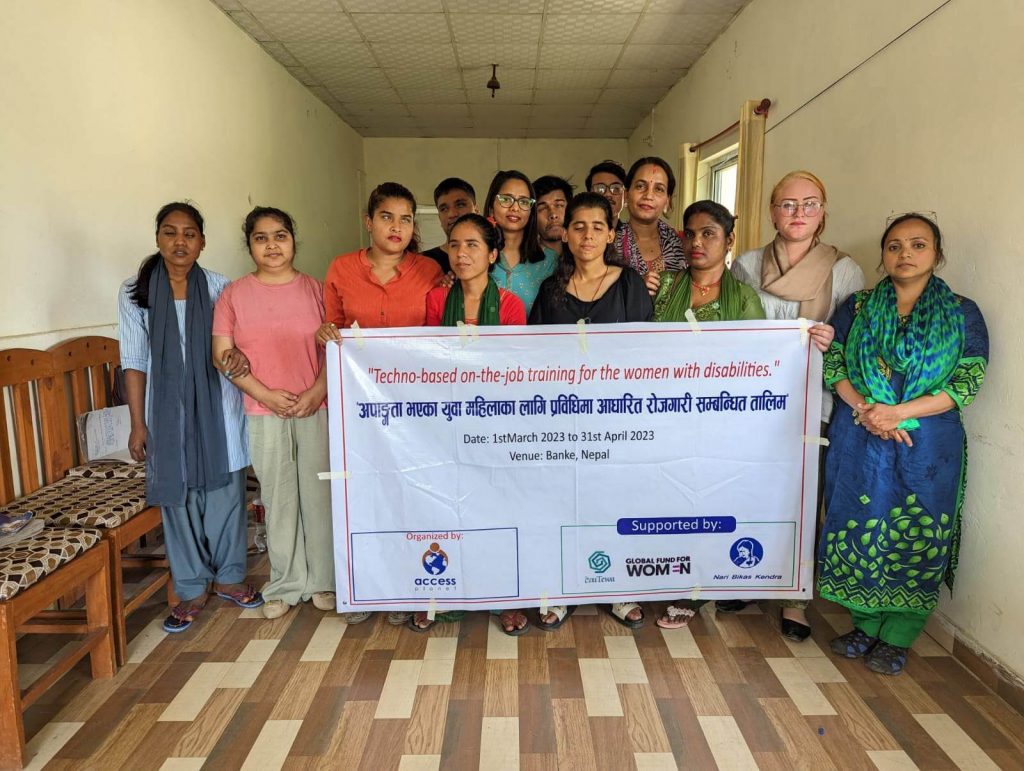 March 2023 to May 2023
Nepalgunj
Access Planet Organization organized three months "Techno-based on the job training for young women with disabilities residing permanently and temporarily in Banke district, Nepalgunj of Lumbini province. There was participation of 10 young women and 2 young men with different types of disabilities. This training aimed to build techno-based employment skills to secure better career in their future. The training was conducted in funding support of Tewa Sangsthapika Award and Global Fund For Women. Along with that Nari Bikash Organization also supported us by providing Nari Bikash Hall to run this training for three months.
Objectives:
The main objectives of the workshop are as follows:
To build techno-based employment skills among the youth with disabilities.
To help youth with disabilities to grab employment opportunities after this training.
To strengthen computer skills among the youth with disabilities.
The topics covered in the computer training were as follows:
Microsoft word
Microsoft Excel
NVDA setting
PowerPoint
Email
Internet
Google drive, google sheet, google docs
Nepali Typing
Likewise, other sessions covered in this training are as follows:
Office Setup
Letter writing
Minute writing
Meeting Procedure
CV writing
Cover letter
Report Writing
Professional Email Writing
Public Speaking
Job Interview Technique
Outcomes of the training:-
12 young people with disabilities built techno-based skills related to the employment.
The participants were able to strengthen computer skills and learn Ms.word, Ms.excel, PowerPoint, NVDA setting, Internet and Google drive.
The participants were able to enhance their skills in Printing, scanning, photocopy, Nepali typing, Email writing, Letter writing, Report writing, Meeting procedure and minute writing, Public speaking and Job interview technique.
The participants enhanced self-esteem and confidence on their future career and to be involved in employment opportunities.
One of the participant got internship opportunity at family planning association during the training period.
Local government representative including mayor, ward chair visited the training sport and expressed commitment to work for technological empowerment of persons with disabilities in the municipality.
Perception of community towards technologically capable youths with disabilities became positive.
Image Gallery
Post Tags:

capacity building, Disability Rights, Education, employment promotion, Empowerment, Inclusiveness, leadership, technological empowerment
Share this page on social medias!